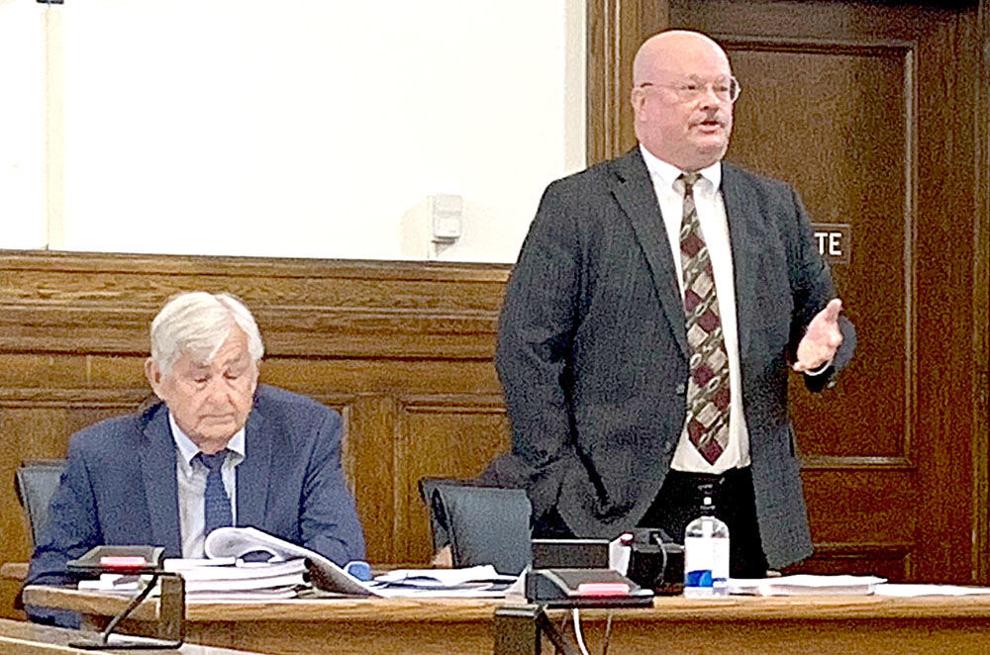 The developer of a motorsports complex and its opponents will just have to wait.
Following nearly an hour of oral arguments from attorneys representing both sides, Circuit Court Judge Charles Hickman said he is taking what they said "under advisement" before deciding what could be the facility's fate.
Hickman did not set a date for when he will announce his ruling.
The hearing underscored the drama that has unfolded for more than a year after developer Eddie Carey purchased property formerly owned by the Anderson County/Lawrenceburg Economic Development Authority and announced he was building a motorsports complex that will host truck and tractor pulls, a dirt oval track for races and other events.
His announcement set off a firestorm of criticism from those who live nearby and a neighboring business that hosts weddings and other events.
The owners of that facility, along with a couple dozen homeowners, have sued the Anderson County Board of Zoning Adjustment (BOZA), which after several months of heated and boisterous meetings, granted Carey the conditional use permit he needs to operate the facility on property zoned for light industrial use.
It did so, in part, because despite the prohibitions on noise and dust, another part of the zoning ordinance says a conditional use permit can be granted in industrial zones for any other business allowed in a business zone.
That permit, and the way it was granted, was front and center during last Thursday's hearing as attorneys on both sides argued its legitimacy.
"You have to reverse this case," attorney Bill Moore said to Hickman while representing the complex's opposition. "Don't just send it back (to BOZA), tell them they just can't do it."
Moore went on to argue that the BOZA decision was arbitrary and ignored the zoning requirements for property zoned for light industrial use, which forbids the escape of noise, dust and glare.
"This facility is going to make so much noise, you'll be able hear it over the entire south end of the county," Moore quipped.
Moore went on to argue that along with being arbitrary, the BOZA board failed to produce findings of fact in its decision.
"They need factual findings that this will promote the health and safety of the community," Moore said. "They had the opportunity to make findings and they didn't. Not a single finding of fact."
Moore also argued that BOZA exceeded its authority to make the decision and that because nothing in the zoning ordinances specifically mentions a motorsports complex, providing a conditional use permit was improper.
"When you look at the zoning ordinance, it says nothing about race tracks or monster truck pulls," Moore said, noting it does mention recreational facilities.
"They are making that much broader," he said.
"Your decision should not be to remand this [back to BOZA], it should be to reverse it."
Attorney David Nutgrass argued in favor of the complex, saying the only thing arbitrary in the case is the zoning ordinance itself.
"It checks all the boxes much more than the complainant's venue," said Nutgrass in reference to the owners of the wedding facility getting a condition use permit to build it in a light industrial zone. "[A wedding facility] certainly isn't in that ordinance."
Attorney Thomas Nienaber took over in defense of the complex, noting that by holding a total of eight hours of hearings over the course of several meetings and setting a list of conditions for the permit, BOZA did create findings of fact.
He also argued about separation of powers between a legislative body and the courts.
"There are many cases where courts could say they wouldn't do it that way, but there is great deference afforded to an administrative agency," Nienaber said.
Nienaber said there are plenty of cases in Kentucky law that conclude a specific type of business does not have to be named in a zoning ordinance to be allowed.
"An ordinance is nothing more than a guide for development, not a strait jacket," he said.
"In this case, BOZA looked at the category and interpreted what that means. They have that ability. BOZA set conditions against noise, dust, hours and traffic and made a decision in its power to include a motorsports venue."
Nienaber went on to argue that the decision was not arbitrary.
"Was there no due process? That's not the case," he said. "Was it erroneous? No facts are cited that it was clearly erroneous. When making an appeal, it is incumbent on the plaintiff to say a different outcome is needed and they have made no such case. It shouldn't be set aside or altered in any way."
"The focus should be on the industrial zoning," countered Moore. "That's the issue in this case. We're back to is this decision arbitrary? Can they go as far as they did in this case? We say they can't."