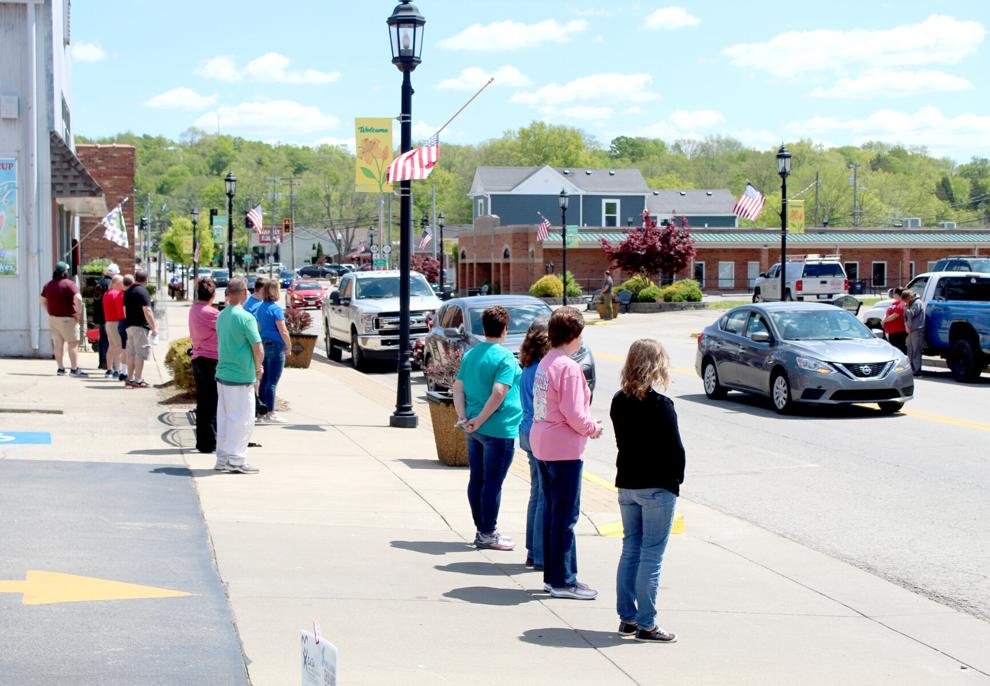 The funeral for Spencer County High School student Nathan Wimsatt was held on May 4, 2023, at Spencer Christian Church.
Afterwards, the Wimsatt family reached out to the community to give them their thanks.
"Kathryn and I moved from Louisville to Spencer County (when Nathan was in the fourth grade and Natalie was in the second grade) to provide a better life for our family. We were welcomed with open arms from the community, school, church, and athletic programs. Our first involvement was with Spencer County Soccer Association, and we almost immediately met lifelong friends. We knew we had made the right decision to move; however, we learned over the past week just how amazing this community is that we have here in Spencer County.
"Following the tragic death of Nathan, our Spencer County community has put their arms around us and has not let us go. There is no way we would have been able to plan a funeral and make many difficult decisions without the help of so many in our community. This last week was simply a blur. We will try to thank everyone for all the love, support, prayers, food, condolences, and gifts, but we will never know fully all those that contributed. Please know that Kathryn, Natalie, and I will forever be indebted to this wonderful community.
"Let us begin by thanking Pastor Chad Goodlett of Taylorsville Community Church. Chad was there for us at the accident site and continues to be there for us today. Chad (along with everyone at TCC) worked hand-in-hand with Pastor Aston Stewart and Andy White (and everyone at Spencer Christian Church) planning and organizing the visitation and funeral with us and Greenwell-Houghlin Funeral Home. There are no words that can express our gratitude.
"We are so grateful for our first responders—Taylorsville Police, Kentucky State Police, Spencer County Sheriff's Office, Taylorsville-Spencer County Fire Protection District, and Spencer County Emergency Medical Service. All are very special people who never get enough recognition. Kathryn and I want to thank Trooper Stuart Wiser specifically for being there for us at the accident scene. Likewise, we would like to thank Chief Nathan Nation and Assistant Chief Sam Satterly with Taylorsville-Spencer County Fire Protection District for their prayers and support. We are pretty sure a large number of firefighters were around for most of the visitation and all of the funeral and procession. We would also like to thank Julie Schmidt with the Spencer County Sheriff's Office for watching over our house (and caring for our dog, Lucy) during the visitation and funeral.
"Numerous leaders stepped up in our time of need, including Uncle Will Atteberry, Kelly Maloney, Angela Muddell, and Jessica Des Ruisseaux. On the suggestion of Angela, Will set up the Go Fund Me page to help with burial expenses and a scholarship fund in Nathan's honor. He also was our designated liaison for so many hard decisions that had to be made. We thank Will, Collin King, and many volunteers from Spencer Christian Church for organizing the approximate 150 cars in the funeral procession. We would like to thank Kelly and Angela for designing and overseeing the wristbands that were paid for by anonymous donors. We absolutely love the wristbands! Special thanks to Joe Elam with UpTop Apparel, Jessica, and Will for designing the shirts, apparel, and additional wristbands. Angela, Kelly and Jessica also posted on social media the information related to Nathan and his funeral that kept the public up to date. We would like to thank Jessica, Sarita Taylor, and Kelly for spearheading the food that was delivered to our house, the food during the visitation, and the meal at TCC. Special thanks to Country Mart and all the volunteers at TCC, Spencer Christian Church, Redemption Hill Baptist Church, and several other community churches that contributed to the meal. The fellowship following the funeral at TCC was much needed to begin the healing process for all those touched by Nathan and his passing.
"Our family would like to thank everyone who took time out of their busy life to attend Nathan's visitation and/or funeral. We are so thankful and simply speechless that so many people took off work or school (and other life activities) to wait in a long line to pay their respects to Nathan and provide prayers and condolences to us. We will always treasure the kind words and stories about Nathan from his classmates, teachers, and friends. There is no doubt that Spencer County knows how to raise some fine young men and women!
"The funeral was a beautiful ceremony honoring Nathan's life. Again, we cannot thank Chad enough for all he has done for us in our time of need including his message at the funeral. We would like to thank Doug Des Ruisseaux and Spencer Christian Church for the video of Nathan that played at the funeral as well as his friends who provided those videos to Doug. The procession to Valley Cemetery following the funeral was very special with the number of cars and the people along the road paying their final respects. The sight of the students standing outside SCHS and the buses lined up during the procession took our breath away. We really appreciated when the SCMS soccer teams and SCHS softball team honored Nathan during their games this week. Also, a special thanks to the high school girls soccer team and parents for making the memorial pins. We are lucky to live in such a special place.
"We apologize to those we failed to mention, but please note that we appreciate everything this community has done for us this week in remembrance of a life lost way too young. Again, we will forever be indebted to this wonderful community."
Sincerely,
Brian Wimsatt